Lightweight eBike for the Grab-and-Go lifestyle
Velotric has taken a swing away from Discover 1 and Nomad 1 we saw last year as more of an all-rounder and offroad adventure-style electric bike to the T1 and T1ST.
Off the bat, you can see Velotric's intention of reaching riders with a grab-and-go lifestyle looking for an electric bike. Not only is it a very slim and stealthy eBike, it is very lightweight and packed full of all sorts of new tech. Not only does it show off what Velotric can offer but creates an opportunity for riders looking for an anytime bike for urban settings and exploring the countryside. All the while keeping the quality, innovation, and tech in an affordable package.
The T1 comes in at $1799 and T1ST for $1499. Both are Class 1 electric bikes, with an inhouse 350w rear hub motor and 36v 9.8Ah battery boasting an impressive range of up to 70 miles. Weighing only 36lbs, there are 700c aluminum wheels, an 8-speed drivetrain and Tektro hydraulic disc brakes. The internally routed cables and integrated battery in the downtube, make for a very minimal aesthetic which, if not for anything, looks really good and not much like an eBike at first glance. The T1 is a flat bar electric gravel bike equally capable as an urban commuter. For a more urban-centric electric bike the T1ST is also available, with minor component, tech and frame changes.
All New E-Series Motor
Similar to the Discover 1 and Nomad 1, Velotric continues their inhouse drive units and introduces the new E-series motor seen on the T models. The E35 motor on the T1ST and E35+ on the T1.
This is a class 1 electric bike with 350w of nominal power and 45nm of torque. It's an extremely quiet drive unit as well rated at 63db noise level. Velotric rates the E-series motors in supporting the rider on up to 10° inclines, which we definitely experienced out riding and found the motor continuing to supply power on steep terrain both paved and sloppy wet spring dirt trails.
Velotric has also added a Torque Sensor to the T series, which makes a world of difference in not only the sensitivity and natural riding characteristics which is what our team prefers, that torque sensor is what enables this 350w/45nm motor to offer plenty of power and support to the rider, especially in that steep environment.
This thing is "SMART"
I've mentioned new tech in these bikes and that starts with the new motor. Velotric is calling this a Smart+ hub, which has built-in sensors and accompanies a lot of the overall integration of electronics and cables of this bike for that stealthy look. The T1 uses the E35+ system which has Smart capabilities. It uses a fingerprint sensor to activate the bike and turn it on, which you program with the app. From the app, you can turn the bike on from the app, program multiple fingerprints, lock the bike, set an alarm (which means if the bike is locked a theft alarm will sound if it starts moving), and adjust which riding mode you're in.
There are 3 modes on the T1. City Mode, Adventure Mode, and Max Mode. With City Mode being the most efficient, calm and tempered tune the other tunes adapt to more aggressive terrain and supply a different curve of power when pedalling.
Additionally, the app has a location feature that let's you know where the bike is at all times and will record your rides and show battery percentages along the way.
The T1ST uses the E35 motor which doesn't have all of those smart features but does have the integration for "Apple Find My" feature, allowing you to know where the bike is as well.
For a $300 difference you are getting those Smart Features and safety features which might not be for everyone, needless to say cool to see and really puts a competitive offering tech integration into a whole new tier of electric bikes that haven't seen that level of tech offering before.
Lightweight Frame
Velotric uses 3D Liquid Forging Technology and Hydroformed aluminum to design the frame. This may not be something you're familiar with or have even heard of, but is something we see often in the bike industry. In the Thunder it allows Velotric to make a very slim frame that can host the battery and electrical components in that tight package while maximizing strength and keeping it lightweight. Additionally, the Thunder has forged dropouts which create a stronger and more secure fit for the rear hub. Velotric also specs a Novatec thru-axle for added stiffness and durability in the front wheel.
It is offered in two sizes for each model. The T1 in a Medium and Large (on test), and the T1ST in a Small and Medium (on test).
When it comes to a gravel and urban bike the T1 has comfortable geometry. The size large T1 has a 447mm reach, 565mm stack height and across all sizes there is a 71° head tube angle, with a 73° seat tube angle, and 445mm chainstays. At 6' tall the higher stack height and longer reach works well with those longer chainstays and slightly longer wheelbase, in allowing to feel confident and stable at speed and comfortable along the way.
Comfort and Tires
As a grab-and-go bike both models are comfortable to ride with Selle Royale SRX saddles. The T1 has a narrower saddle and the T1ST has a slightly wider saddle for added comfort, as a more urban focused machine. There is a narrow-wide chainring from Prowheel to reduce chain drops and ensure a more secure connection for the chain. We see Narrow-Wide chain rings on many bikes from road to mountain and it's a welcome detail, as little as it may seem, furthering the push for a premium spec in an affordable package.
The Thunder 1 has 700c x38c e rated gravel tires with puncture protection and the T1ST has 700c x 40c e rated urban tires with puncture protection. The frame can fit up to 45c tires which expands the many possibilities of tires available for all sorts of terrain.
There are mounts on the rear triangle for a rear rack, as well as plenty of mounting points on the fork. With an overall load capacity of 330lbs, the T1 has us considering some touring and bikepacking adventures this summer.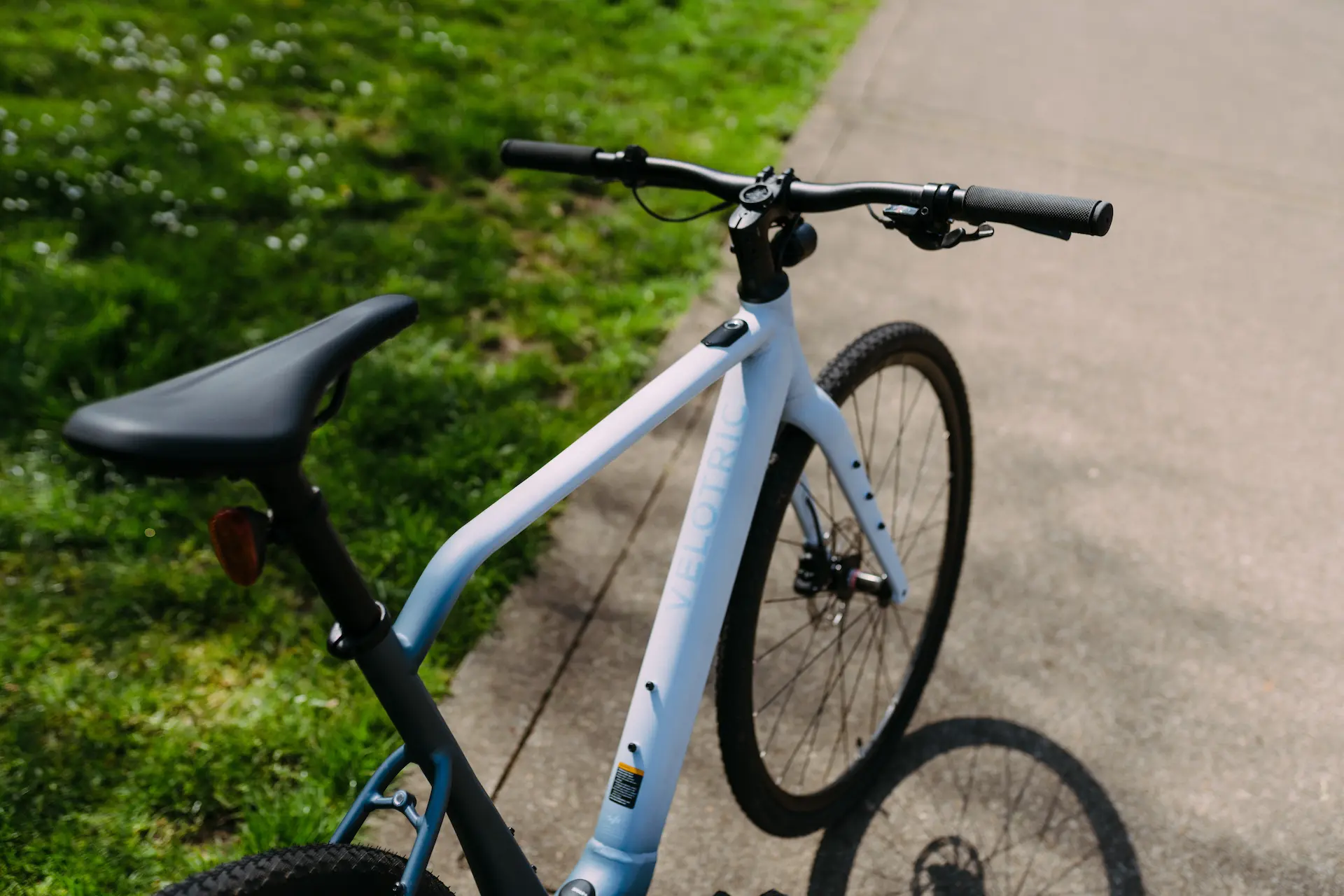 Final Thoughts
The T1 really brings a whole new look to Velotric and bridges a gap for those looking for a lightweight electric bike. As an urban eBike or a gravel eBike the T1 is comfortable and we're seeing a lot of potential for some real adventures. The Smart features are a neat integration of tracking your rides and securing the bike. The find my capability on both models is really cool as well, giving peace of mind to know where your bike is at all times.
As a whole, the motor delivers a smooth and powerful PAS that didn't have us wishing for more on any of our rides. With all of our Tech Checks our goal is to let you see from our perspective the new tech and new bike design and some of our initial impressions. We'll continue to expand on our ride impressions and overall thoughts in our long term review as we get more time riding and upgrading to some of our tried and true favorite components to make this even better for our riding style.
Price: $1499-1899
Sizes: Small, Medium, Large
Weight: 36lbs
Website: velotric.bike